With each new year comes excitement over market trends. Consumers expect to see captivating new products from their favorite brands, along with newcomers to the market. 2020 is especially intriguing as we embark on a new decade of innovation, particularly in food packaging. We have compiled the top five trends set to take the consumer packaged goods (CPG) market by storm.
---
MINIMALISM
Minimalist graphic design is holding strong in 2020, with a focus on the product inside and less detail on the package. From this, brands are leaning into windows or, in some cases, fully transparent packaging to illustrate a commitment to clean products. This is something that has been popular for some time in the alcohol and beauty industries. To see this trend branching into food CPG brands shows the importance consumers place on quality products.
PRODUCT SHOWCASING
There is a similar trend developing alongside the transparent packaging: realistic graphics. While this is not a new concept – we likely all remember the oversized graphics on our favorite childhood cereal boxes – it is one that is becoming prevalent across multiple foods: ice cream, snack bars, granola, frozen dinners, etc. Using a large, high resolution image of the product inside creates a sense of transparency, both literally and figuratively. Again, this reinforces the standard of quality product appearance.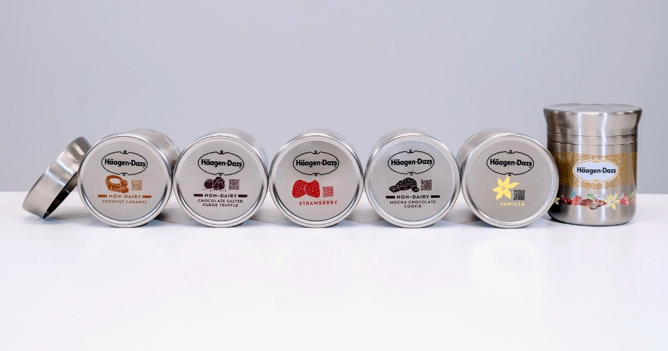 REFILLABLE, REUSABLE PACKAGING: RIGID CONTAINERS
Research conducted by Mintel, a market intelligence firm, found that recyclable and refillable packages will be among the top trends in 2020. And while recyclable has been on the list of packaging trends for several years, the focus on refillable packaging is starting to take hold in CPG companies. Cleaning products like Method have been espousing the benefits of refillable packaging for a few years, but a shift is occurring in formats most consumers don't think about as often, like makeup. Refillable lipstick tubes and blush compacts emerged in droves in 2019. This trend is just getting started. (add Mars M&Ms tub from Costco)
INSTAGRAMMABLE PACKAGING
Brands are in constant competition for consumers' attention and affection. Recently, traditional CPG brands looking to shake things up have turned to social media platforms for inspiration. One outcome is the iridescent film trend. An influencer's dream, the rainbow sheen of packaging gives an instant facelift to any brand. While this trend has been popular for a while among beauty brands, retail and CPG food brands have been embracing the holographic and iridescent style more recently. Other trends, such as soft pinks and oversized botanic graphics have been seen in the beauty and food industries as well.
EASTER EGGS
No, we don't mean that literally. Movies with cult followings (think Marvel or Star Wars) typically drop an "easter egg" or two - bonus content that ties directly into their movie's plot or "world" - in their post-credit scenes. This idea of easter egging is rapidly spreading to CPG brands.Whether using augmented reality (AR) elements or anti-counterfeiting measures, packaging is set to become more interactive with consumers. We've come a long way from 2010, where QR codes on packaging were the height of hi-tech packaging. Companies like 19 Crimes wine have used AR to increase brand engagement for a few years; now more brands are feeding their consumers additional, special content through AR and other technologies. Last year Mars Wrigley Confectionery launched an NFL themed specialty product in Wisconsin, treating fans to limited edition candy with an AR element on the inside of the pack. Anti-tampering measures and freshness indicator labeling solutions are also becoming more popular, giving consumers more confidence that they have the best quality product. Packaging companies like Bizongo have developed labels that change colors to indicate a change in pH or fermentation inside the package.
---
It's always exciting to look ahead and understand the changes in the market. While these packaging trends seem to be moving into a place of prominence in the CPG industry, there are plenty of trends to come that we haven't seen yet. We look forward to learning more as the year progresses.