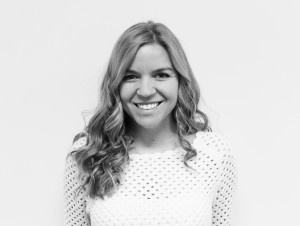 ALLY KARRASCH, creative werks' Project Coordinator, came to creative werks in April 2014 after working in radio promotions. A native Chicagoan, Ally received a BA from Columbia College, Chicago, is an avid reader and a die-hard White Sox fan. Read on to find out more about Ally, her favorite items to splurge on, thoughts on creative werks' future, and her "irrational" fears.
Where did you "grow up"?
The little town of Palos Heights, a suburb of Chicago backed up against miles of forest preserves.
What do you tend to splurge on?
Shoes! I buy shoes when I get stressed. It's a terrible habit, but I don't regret it when I open my closet.
What were you like at age 10?
A bit of a tomboy, really. I was this little goofball with perpetually messy hair, running around the neighborhood without shoes and coming up with crazy, elaborate games for my friends and sisters to play.
What do you think has been mankind's greatest invention?
We all benefit from self-expression and it's important to read directions before building Ikea furniture, so it seems to me that the written word is mankind's greatest invention.
What is the first thing you would do if you were the sole survivor on Earth?
Assemble the necessary supplies and start traveling to all the places my two legs could carry me!
What was your first week like at creative werks?
It was an exciting time. Trying to piece together all the different elements of this job was a challenge I accepted gladly.
What is your biggest pet peeve?
That's hard to say because I try not to let little things get to me. However, I really don't like when people chew right next to my ear. It makes my skin crawl.
What is the craziest/ most memorable job you've had?
Working in Radio Promotions was, I'd say, the craziest. You practically live in the company car and drive around to hundreds of events all summer long. The people you meet while working under a promotions tent are among the most unique in the world.
Do you have any irrational fears?
Clowns. I hate 'em.
What do you think creative werks will be like in 10 years?
That's a question I think about often. I imagine in 10 years' time we'll have expanded our operations to package a very wide variety of goods and I can easily see cw becoming an industry leader in design. We have many great minds at this company so I think those are realistic predictions.