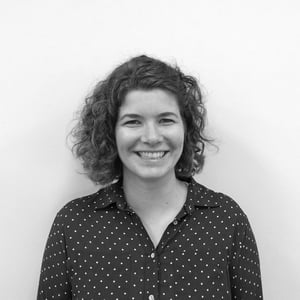 Beautiful, smart, patient, and brave: Liz Girten, creative werks' HR Manager, uses these words to describe her superhero Esther. While these words likely describe her superhero well, they could not be more emblematic of Liz, too. A fluent Spanish speaker, Liz studied in Ecuador while attending the University of Illinois. Upon graduating, she worked for Target Corp before coming to creative werks in 2011. Her optimism, smarts, and cheerful nature are characteristic of any ideal candidate we want working for our team. Read on to find out more about Liz Girten.
If you were a superhero, who would you be?
Does Esther count? She was beautiful, smart, patient and brave. When she found out her people were in danger, she risked her own life to save them.
What's your favorite thing to do on a Saturday?
On Saturday mornings I like to go to cardio kick boxing class and then have a good meal with great friends.
Where do you think creative werks will be in 10 years?
I think we will continue to grow, we will have more buildings or bigger buildings. I think we will win new clients and new markets and we will expand our capabilities. Maybe we will get into co-manufacturing or a new type of business that doesn't even exist yet. By then it will be 2026 and we should have flying cars, right? At least we should have self-driving cars.
What would your slogan be if you were a candidate for president?
I do not consider myself to be a very political person, perhaps my slogan would be "In God we trust" or "One team, one dream".
What do you think has been mankind's greatest invention?
Written language, think about how much of our communication is in writing. It's kind of bananas! Most of us wouldn't have jobs if we didn't have written language. I couldn't be communicating this right now…
What is the best piece of advice you've ever received?
Proverbs 3:5-6 Trust in the LORD with all your heart and lean not on your own understanding; in all your ways submit to Him, and He will make your paths straight.
What was your first week like at creative werks?
It was so fun and refreshing, an exciting new adventure from what I was doing when I worked for Target. Sarah and Colleen and I shared an office, it was up where the Design/Marketing office is now. I remember we did a lot of interviews! At Target we had interview booklets and you could not deviate from the questions in the booklet. Interviewing at cw is much more fun, we ask a lot more questions tied in to our culture.
What were you like at the age of 10?
I was a dork then too. I played outside in the street a lot with my dear friend and neighbor, Alli. We would tie a rope between our mailboxes because we wanted to play tennis and we didn't have a court nearby. We lived on a dead end street so there weren't many cars, but we would always rush to untie the rope when a car drove up! We rode our bikes a lot too since we lived in a small neighborhood surrounded by corn fields. I basically lived (and still live) in Mayberry.
How many times do you hit "snooze" in the morning?
Maybe this is embarrassing, but I intentionally set my alarm early because I know I will hit snooze a few times.
What celebrity would you like to meet for a cup of coffee?
C.S. Lewis – I guess he's not really a celebrity, but a famous author. I would love to pick his brain about how he wrote Mere Christianity and have him read a few passages from one of my favorite stories, The Voyage of the Dawn Treader from the Chronicles of Narnia. It's such a great adventure story! I would highly recommend it if you haven't read it already.