creative werks Spotlight on... Lorien Carley!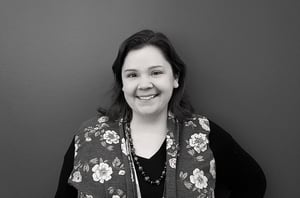 Tolkien once wrote, "All we have to decide is what to do with the time that is given to us." For Lorien Carley, she fills her time with a wide variety of activities. The Quality Regulatory Sr. Manager studied Chemistry at Loyola and has a wide range of hobbies that can barely be summed up in this intro. From Zumba instruction to crochet, from baking to crafting anything that strikes her fancy on Pinterest, Lorien's tastes are eclectic and exciting. She is a Chicagoland native, living in Northwest Chicago with her husband and their daughter, Elinor (an anagram for Lorien!). Lorien herself is named after Lothlórien forest - a magical elven forest in The Lord of the Rings - and embodies the creativity and passion Tolkien wrote of its inhabitants! Read on to learn more about one of our most energetic and curious creative werkers.

If you could trade lives with someone for a day, who it be and why?
There is no one I'd rather be than me! But I might like to try on the life of a dog or a cat for a day! Seems like a pretty nice existence.

Is there a documentary, album, or book that really changed the way you thought about something?
The Bridge of San Luis Rey by Thorton Wilder was pretty impactful. Although there is a lot of religious implication, there is a strong theme of narrative over circumstance that really spoke to me. Any story can be told as a tragedy or comedy- a struggle or a triumph. It's a pretty good way to look at life.
What do you like to listen to in the car?
I listen to Audible and NPR, but on the days I need music- it's either the "Hamilton" soundtrack or 104.3- Hip-Hop throwbacks.

Where do you see creative werks going in the next 10 years?
I would be very excited to see the company expand into not only different food categories, but also different product segments (beverage, supplement, personal care). I think we could do it all.

If you could share a meal with any 4 individuals, living or dead, who would they be?
In no particular order: David Bowie, Jimmy Carter, Alton Brown, and my cousin who passed away last summer. One last time.
What would you say is your spirit animal and why?
Canadian Geese. First of all- I am a HUGE Canada fan. Also- I like the teamwork metaphor of their flight pattern. It's cool- says a lot about life and leadership.

If your life was a movie, what title would best fit?
Chin up, Buttercup!

Which season do you enjoy the most?
SPRING ! because it means winter is OVER.

Let's say time travel becomes available. Would you choose to visit the past or the future?
Not the past for sure. I couldn't stand to be in any time less tolerate than now. I think the present is the right place for me, though.
What's a role at creative werks you would like to try for the day?
All of them! I'm very curious about the client side (I mostly interact with the client's quality people- and all quality people are cut from the same cloth). I'd like to try a client service role. I'd love to spend a day in HR- I think they get a unique perspective on the business and get to interact with all departments at all levels. I'd love to shadow Doug for a day and get that top-line view of the operations. There is no aspect of our business that doesn't interest me.