creative werks Awarded Excellence in Sustainability Award from Elk Grove Village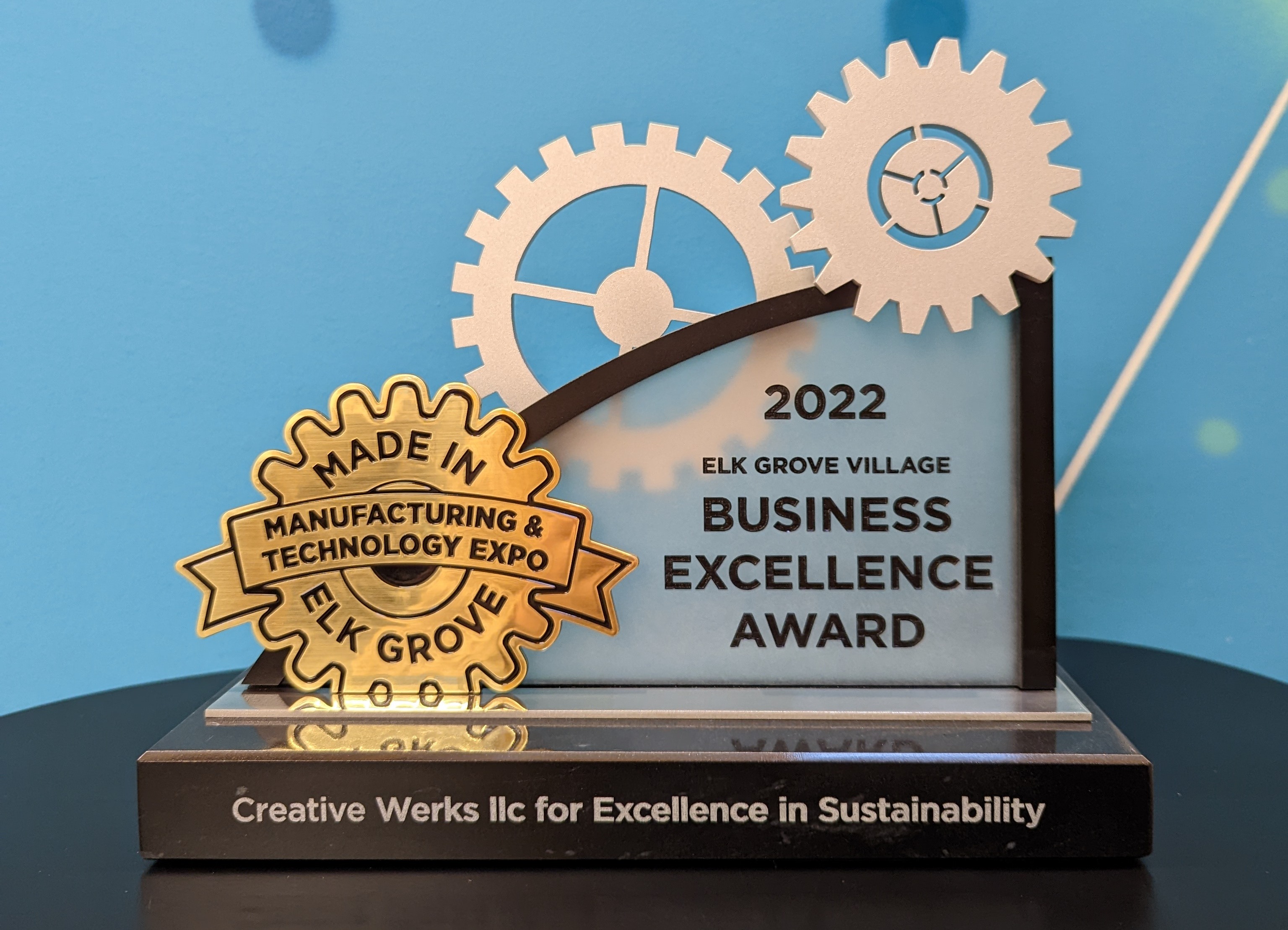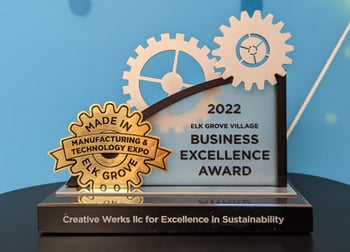 ELK GROVE VILLAGE, Ill., October 17, 2022 – creative werks is honored to be awarded the 2022 Excellence in Sustainability award from Elk Grove Village. The village hosts the Made in Elk Grove Manufacturing & Technology Expo annually to promote the manufacturing and technology prowess in the area.
Each year the village recognizes local businesses for their efforts in sustainability, product innovation, community support, and industrial development. This year, creative werks was awarded the Excellence in Sustainability Award for its ongoing work in sustainability.
Since 2009 creative werks has been a proud member of Environmental Protection Agency (EPA) Green Power partner. creative werks runs on 100% renewable energy through the purchase of wind energy Renewable Energy Credits (RECs). Additionally, creative werks has invested in energy-efficient lighting, recycled water for its manufacturing equipment, and established a robust industrial recycling program to recycle 100 percent of its corrugate materials and other recyclable materials. creative werks's design entity, Werkshop Design Group, partners with clients to promote sustainable packaging options, including light-weighting existing packaging, investigating recyclable adhesives, and sourcing recyclable film.
As a packaging designer, manufacturer, and co-packer creative werks strives to push the industry forward with its sustainability targets and helps progress those of its clients and stakeholders. In addition to its Green Power Partnership, creative werks has achieved its third Gold status from EcoVadis and services on the board of AIM Progress - a forum of leaders in the Consumer Packaged Goods (CPG) industries working together to promote responsible sourcing and sustainable supply chain practices. "At creative werks we strive to be forward-focused and sustainably grounded in everything we do. I am proud and inspired to work with so many associates who want to improve the world. I want this business to keep challenging the industry, pushing to make progress for a better tomorrow and I know we have the right team to do that," remarks CEO and Founder, Steve Schroeder.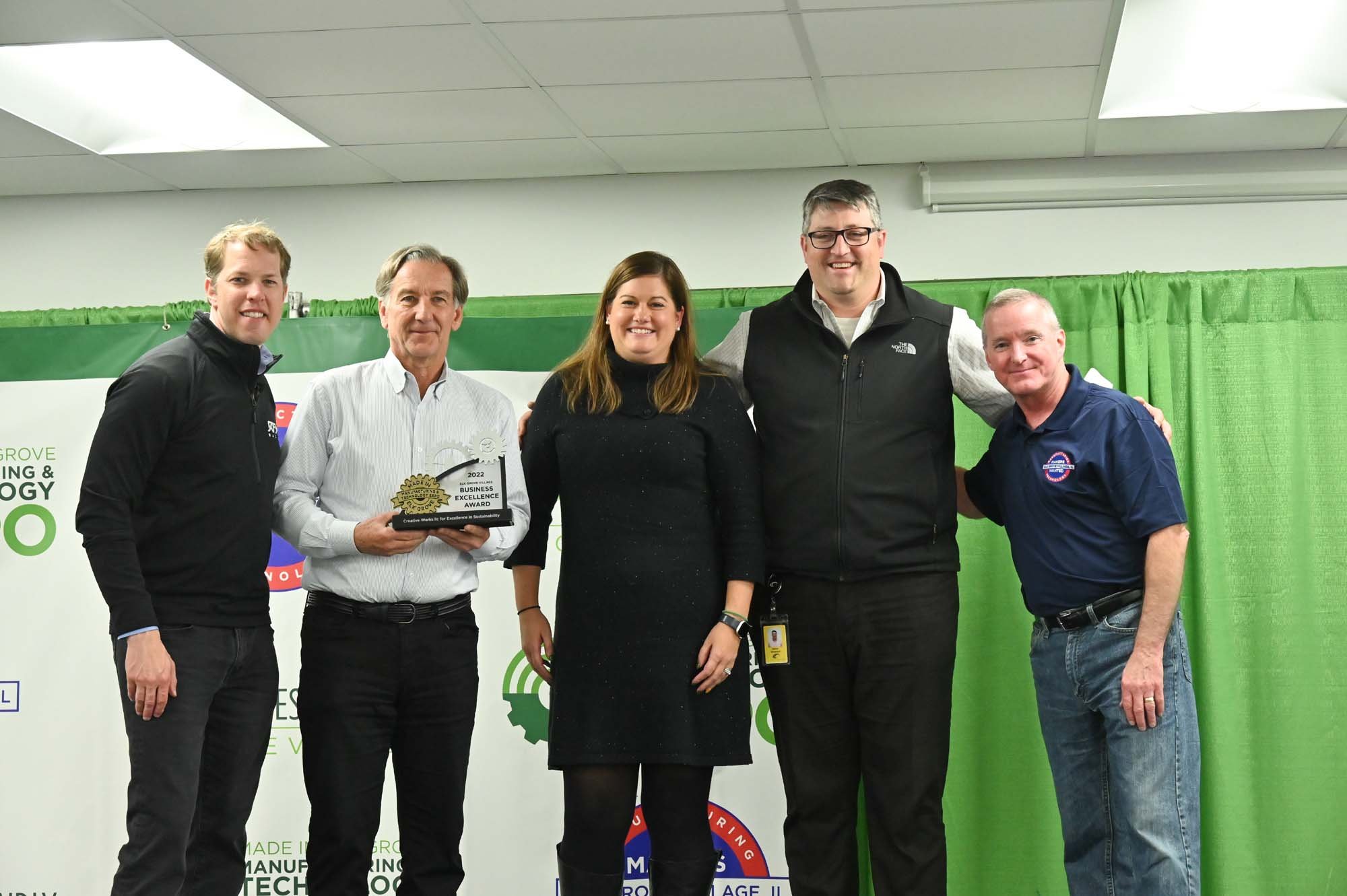 creative werks President & Founder Steve Schroeder receives the Excellence in Sustainability Award alongside VP of People Gretchen LeMay and CFO Patrick Woodward. Awards were handed out by Elk Grove Village mayor Craig B. Johnson (right) and NASCAR driver Brad

Keselowski (left).
Source: Made in Elk Grove Manufacturing Expo
About Made in Elk Grove Manufacturing Expo:
Calling all OEMs and manufacturers! The Village organizes an annual trade show exclusively for you. At the inaugural show in October 2013, 90 exhibitors and more than 500 attendees from around the Midwest came together to network and see all that gets made in Elk Grove. Among the industries represented: Precision Machining, Plastics, Electronics, and Industrial Services. Learn more at madeinelkgroveexpo.com.
About The Village of Elk Grove
The five-square-mile business park in Elk Grove Village contains the second highest concentration of employment in Illinois, with approximately 100,000 people serving a diverse mix of local, national, and international companies. With outstanding amenities and business opportunity, as well as exceptional people, Elk Grove Village is an ideal location to live and work.
About creative werks:
Founded in 1999, creative werks designs, manufactures, and co-packs for top 100 food brands. Our mission is to be your ultimate packaging partner and to deliver the highest quality products that win the hearts of consumers. Committed to practicing business the right way, creative werks runs on 100% alternative energy and achieved a 2022 EcoVadis Gold Rating for its sustainable and ethical business practices.