creative werks awarded its third Gold rating from EcoVadis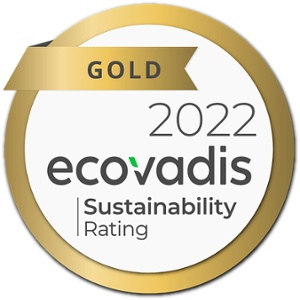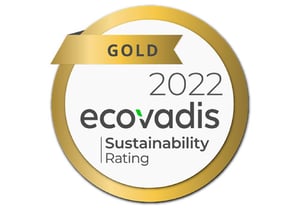 ELK GROVE VILLAGE, Ill., May 31, 2022 – creative werks, a leading manufacturing, packaging, and design company in Greater Chicago, announced today it ranks in the 94th percentile of companies globally for its practices in corporate responsibility and sustainability.
creative werks has been a proud member of EcoVadis since 2016 and this year's Gold rating is evidence of consistent efforts and improvements to its sustainability initiatives since joining the platform. This is the third consecutive Gold rating creative werks has received across its six years of participation. The assessment reviews and benchmarks corporate practices across the topics of Human Rights & Labor, Business Ethics, Sustainable Procurement, and the Environment.
"We feel a great sense of pride in receiving this third Gold rating from EcoVadis, which only inspires us to do more," explains Jordan Synnestvedt, Sustainability Manager. "creative werks remains deeply invested in its responsible business practices. Our team is passionate about sustainability and human rights and our repeated Gold ratings really illustrate that."
The assessment covers 21 Corporate Social Responsibility (CSR) indicators, evaluating a company's progress and commitment toward the Ethical Trade Initiative, United Nations' Sustainable Development Goals, and the Global Reporting Initiative. In addition, brand companies and suppliers alike can share their assessment reports on the platform providing companies with key insights and visibility around their supply chain, supplier relationships, and progress toward collective goals.
In working with top 100 food brands, creative werks continues its work to build sustainable supply chains. Colleen Coyle, Director of Business Development, CSR, & Strategic Accounts, remarks, "Social responsibility and sustainability are central to creative werks' mission and values. Our team is tenacious in our efforts to make a positive impact on our supply chain and the supply chain of our clients. As always, these efforts remain a collective goal of the company and we keep that goal in focus across all areas of the company."
About creative werks
Founded in 1999, creative werks designs, manufactures, and co-packs for top 100 food brands. Our mission is to be your ultimate packaging partner, to deliver the highest quality products that win the hearts of consumers. Committed to practicing business the right way, creative werks runs on 100% alternative energy and are EPA Green Power Partners as well as members of AIM Progress and Sedex.
About EcoVadis
EcoVadis is the world's most trusted provider of business sustainability ratings, intelligence and collaborative performance improvement tools for global supply chains. Backed by a powerful technology platform and a global team of domain experts, EcoVadis' easy-to-use and actionable sustainability scorecards provide detailed insight into environmental, social, and ethical risks across 200+ purchasing categories and 160+ countries.